5777 Torah Fund Pin (2016-2017)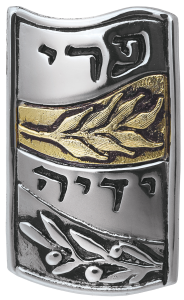 Pri yadehah, which means "the fruit of her hands" is a phrase from Eishet Chayil, in the biblical book of Proverbs (31:31).
To commemorate the 100th year of Women's League for Conservative Judaism, and the 75th year of the Torah Fund Campaign, we celebrate women's achievements and creativity – the fruit of her hands – in the family, the workplace, in the home, in the synagogue, in the community, as dedicated volunteers, as leaders in the Jewish world and the secular world, as scholars, scientists, artists, business leaders, and more. The wheat branch in this year's pin/pendant signifies the sustenance we wish for all our family and friends, and the olive branch signifies our prayers for peace.
Your tax-deductible gift to the Torah Fund Campaign helps to preserve, promote and perpetuate Conservative/Masorti Judaism throughout the world and enhances the Jewish community by recognizing and appreciating our diverse families. Funding benefits students at the Jewish Theological Seminary (New York, New York), the Ziegler School of Rabbinic Studies (Los Angeles, California), the Schechter Institute of Jewish Studies (Jerusalem), the Seminario Rabinico Latinoamericano (Buenos Aires) and the Zacharias Frankel College (Potsdam, Germany).
We invite you to share the vision of 10,000 women. For more information contact Ann Rosenzweig, Torah Fund Chair, at 732-249-9141 or ten.m1498733497umitp1498733497o@tpa1498733497ydnna1498733497
Torah Fund Pin Order Form