Welcome to the Congregation B'nai Tikvah Men's Club!
We hope that you will consider becoming part of a very special group of men dedicated to providing service to our Synagogue, and helping it to prosper and grow.
Our Mission
To strengthen and support our Congregation and our Jewish Values, while providing opportunities to develop friendships, learn, and have fun.
What We Do
The Men's Club is an integral part of our shul. We bolster every facet of synagogue activity. Some of the things we do are:
Offer Service Opportunities that Reflect the Interests of our Members
Sponsor Youth/Family Events, Religious School, and Softball Team
Host Informative Breakfast Programs and Trips
Provide Contributions to the synagogue for Capital Improvements
Established our shul Rescued Torah Memorial and Holocaust Remembrance Garden.
The Men's Club meets on selected Sunday mornings of each month at 10 a.m., after minyan. Meetings and programs are open to all. Men's Club dues are $36 per year, plus $4 per meeting to cover the bagel-and-lox breakfast.
Join / Contact Men's Club
You can download a Men's Club Application (pdf) which includes the 2016/2017 calendar of events by clicking here. You can view our Board of Directors by clicking here.
If you would like more information on Men's Club, please contact Andrew at ten.t1493563817sacmo1493563817c@gak1493563817m1493563817.
Upcoming Events
May

12

Fri

Family Shabbat SH'BBQ – Special Night!

May 12 @ 6:00 pm
FAMILY SHABBAT SH'BBQ (you know – BBQ food)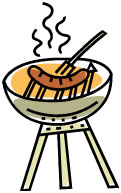 Family Shabbat Services begin 7pm

Junior Congregation Services begin at 7pm

Special sponsorships available – see below

Is your child or other family member celebrating a birthday or any other special occasion in the month of May or over the summer?

Please let us know so that we can make this announcement. For $18 you can SPONSOR the Kiddush in honor of that event or any other special occasion.

 Want to sponsor just because you feel like it?

See order form below.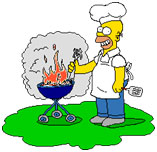 Wear Your Favorite Picnic or BBQ Outfit

Reservations must be received by Wednesday May 9 – Really!!!  Questions? Contact Bobbi Binder 732-690-4779.