Chesed for Chanukah – December 26 at 10am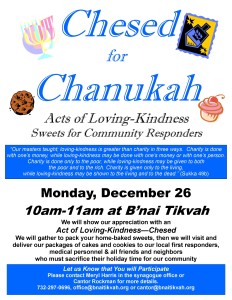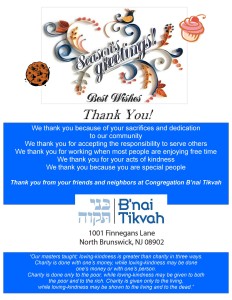 Monday, December 26
10am-11am at B'nai Tikvah
We will show our appreciation with an
Act of Loving-Kindness—Chesed
How can you participate in this act of loving-kindness? Join us in the CBT gym with a platter of your home-baked cookies, brownies or your favorite baked confection.  For One Hour, together, we will assemble boxes of our sweets and then we will deliver our small tokens of appreciation, to members of our community; first responders, municipal workers, healthcare specialists and others who continuously sacrifice their time to enhance and protect the world that we share.
This event is FREE, we will provide the space and the packing materials, we ask to you provide your sweets, your time and your appreciation.   In order to have enough supplies  and space, we ask you to PLEASE, PLEASE, PLEASE RSVP to Cantor Rockman gro.h1516482376avkit1516482376ianb@1516482376rotna1516482376c1516482376 or Meryl Harris gro.h1516482376avkit1516482376ianb@1516482376eciff1516482376o1516482376 or Lynne Weiss Marshall gro.h1516482376avkit1516482376ianb@1516482376nimda1516482376
"Our masters taught; loving-kindness is greater than charity in three ways.  Charity is done with one's money, while loving-kindness may be done with one's money or with one's person. Charity is done only to the poor, while loving-kindness may be given to both the poor and to the rich. Charity is given only to the living,while loving-kindness may be shown to the living and to the dead." (Sukka 49b)
Thank You.